Locally owned and nestled in the heart of Barrhaven, our modern and bright clinic offers clean & private treatment areas, as well as a kid-friendly space. We also offer mobile care throughout most of the National Capital Region.  Treatment is provided by a nurse who is registered with the College of Nurses of Ontario (CNO) and insured through the Registered Practical Nurses Association of Ontario (RPNAO) / Registered Nurses Association of Ontario (RNAO). At TiredSole™ our nurses provide care in line with the new National Standards by the Canadian Association of Foot Care Nurses (CAFCN). We provide  the highest level of infection control by ultrasonically cleaning each instrument then autoclaving them in a sterile bag. The sterilized instruments are opened right in front of each patient.
We are proud to provide various laser treatments with the FOX High Power Podiatry Laser by the German manufacturer A.R.C Laser. This laser is a revolutionary podiatry tool proven effective over drug therapy. No matter your age, we can help.  Check out our amazing results on our Facebook page and in the Blog testimonials!
Our Nurses have vast years of experience in all fields of care. If we can't help, we can direct you to someone who can.
#preventioniskey #knowledgeispower
Foot care services are performed in our state-of-the-art clinic and are also offered in any of the following locations:
The privacy of your own home
Hospitals
Long-term care facilities
Residential facilities
Senior Centers
 Ottawa West and Nepean Locations
---
Kid-Friendly Foot Care Services
We offer a kid-friendly environment including a separate kids room with Netflix, iPads and toys to keep the children distracted during their treatments.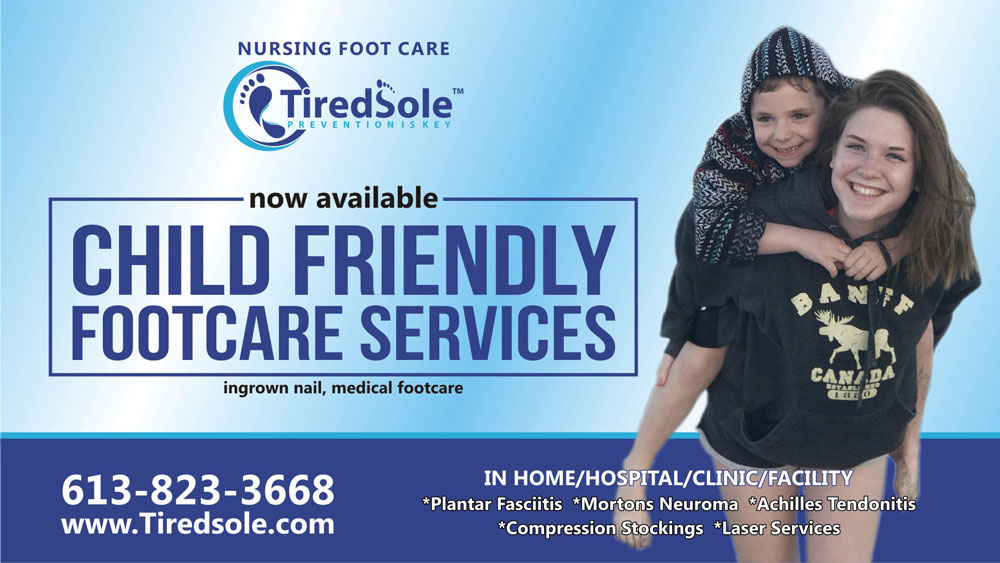 The following services are suitable for children of all ages and are tailored based on the needs of your child.
Laser Wart Removal.

This is done by targeting the wart directly without damaging the tender skin around it. It is recommended that a topical anesthetic, such as EMLA, be applied to the affected area at least 30-60 minutes prior to your visit. EMLA can be purchased at our clinic and is also available at pharmacies.

Ingrown Nail Removal & Bracing.

A numbing topical agent is used which helps cool the painful toe for easy pain-free removal. ( removal of the painful ingrown section ) When bracing is used, it acts like a spring to gently reshape and lift each side of the toenail, reducing pressure against the skin.

Low Level Laser Therapy. Great for sore heels and feet, as well as other areas such as knees, ankles, etc.
Compression Socks. To reduce pain to limbs from sports related trauma. They come in a variety of fun, trendy colours and sizes.